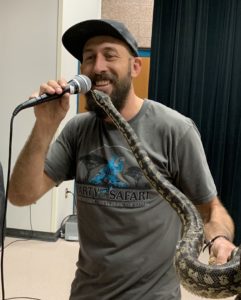 My name is Randy Lewis (B.S. Biology, M.A. Zoology) and I firmly believe in the value of teaching through firsthand experiences. My hands-on, enthusiastic approach, will leave those involved inspired by what they have learned (and excited for more). Though I have taught at the university level, I feel that Party Safari is far more important because it allows me to impact kids before their fears take hold and they have lost their wonder for nature. Consequently, I am looking forward to sharing my exotic animals with you; be it at a birthday party or in a classroom setting.
If an outdoor educational experience is what you're looking for, please visit www.theadventurelearning.com and look at what I offer there.
Sometimes I am out of town taking people on adventures when people would like to schedule a Party Safari event. My assistants have done a great job filling in and maintaining Party Safari's high educational standards while I am gone. My assistants do not bring the Burmese python, red-tail boa, or black-throat monitor lizard to events because they are too large to load by themselves. I will let you know who is presenting at your event before the event occurs.